Hi All,
I'm hoping you can help me out here.
As some of you may know I have been using ECMLink v3 for a few years now and have successfully tuned my car to over 350whp.
But I have an issue I cant seem to resolve/understand.
I changed the valve cover to a new one with -10an breather ports in the PCV and breather locations.
I have dual sealed catch cans one off each and the stock PCV valve is still in play. See photo below.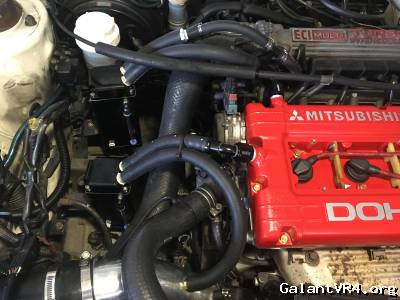 Prior to this change the can ran fine with no idle or tune issues at all. (The catch cans and PCV were in use at that time but with smaller hoses from the stock valve cover)
Now however I have a choppy idle with heavy surge and very strange log readings for the front O2 and ISC? (See log at this link)
This log is from a warmish engine up to operating temps.
click
The FIAV is permanently closed.
I have tested the ISC and it is good. I have checked/reset the TPS to .63v, I have set the BISS screw as required but find it very hard to get a steady idle when approaching 30 on the ISC logged value. The idle becomes very erratic and the engine almost stalls.
For all indications it feels like a vacuum/boost leak but I did a boost leak test and it holds 30psi.
Any help would be much appreciated. Feel free to ask any questions.